What LSH did during the pandemic was life saving to all of us.
Eileen
Senior Center Member
If LSH didn't come into my life at the time that they did, I don't think I'd be alive today.
Kalena
Domestic Violence Survivor
Fun, friends, and community. They are the things I experience most at the Settlement House. All those things are love.
Lois
Senior Center Member
I'm safe. I'm living on my own. I'm not fearing for my life.
Jesse
Domestic Violence Survivor and Food Pantry Patron
They gave me time to heal, to feel love again, to concentrate on my children. I had the chance to grow.
Trevor
Former Jane Addams Place Resident
My time at LSH helped me realize my worth and that no one has the right to take away your hope.
Marina
Domestic Violence Survivor
A lot of good things happened after I came to Lutheran Settlement House.
Walt
Senior Center Member
Coming to Lutheran Settlement House was the beginning of me taking my power back.
Sheila
Domestic Violence Survivor
I graduated college because I had support there and people believed in me.
Ms. Jefferson
Former Jane Addams Place Resident
I see Lutheran Settlement House as a friend. They've taken me into their arms, and I love it. I really do.
Vernell
Senior Center Member
Previous
Next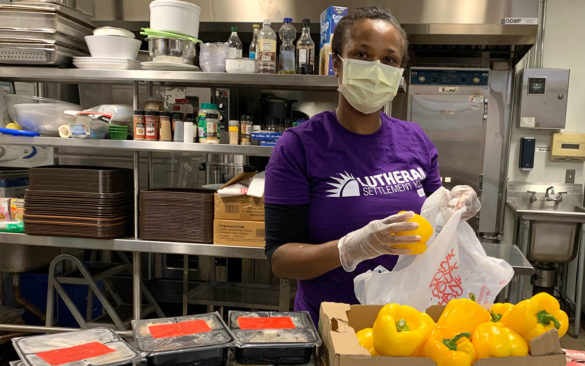 Food Access
Anyone who needs food can receive a variety of dry goods, meat and dairy, and fresh produce from our pantry. For many of our clients, this food assistance allows them to focus on their health and healing while they plan for their futures.
Homeless Services
Philadelphia's housing crisis forces many families into homelessness, and Lutheran Settlement House provides supports to help families navigate the crisis and to find the stability and dignity they deserve.
Domestic Violence Services
The Bilingual Domestic Violence Program (BDVP) provides free counseling services for victims and survivors of domestic and dating abuse regardless of gender or sexual orientation.
Senior Services
At Lutheran Settlement House, seniors build community with each other, participating in activities that promote healthy living and support their goals of leading self-determined lives.
Education
By integrating education into all of our services, we help people to grow and reach their incredible potential. 
Lutheran Settlement by the Numbers
These are a few ways we impact the community. Get to know us and learn about the stories behind the numbers.
Children and Adults who Stayed in our Shelter